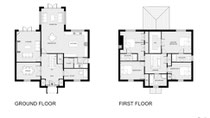 10 signs that rebuilding may be cheaper than altering your current home.
Does your home refurbishement & extension task list look something like this?
1. Take roof off
2. Extend floor area by 30% or More
3. Complete rewire
4. Complete replumb & new heating
5. Replace all windows & doors
6. Replaster all walls and ceilings
7. Redecorate entire house
8. Install numerous steel beams
9. Demolishing multiple walls
10. New fitted kitchen
If it does, then consider this for every £100,000 you are spending, £20,000 has to be added to it in VAT, for which you get no extra building work done at all.
New or replacement dwellings are zero rated for VAT, giving you a 20% saving vs altering your existing home.
An additional benefit is that new build houses are inevitably better insulated, so will have lower running costs in the long term....
If you want to explore some budget costing ideas for your project then get in touch with Fradd Construction. 
It might just save you a fortune!